This blog is about what to do with an old sofa.
Is it a good option to sell an old sofa for a just Rs. 3000/- to 5000/- or to get it repair in Rs. 10000/-.
One can change the foam, material, cushions of an old sofa all approximately Rs. 15000/-. Your old sofa will really get converted to a new one.
Our sofa was in pretty bad shape. We purchased our sofa from one of the show rooms in Indirapuram. After 5 years and 2 small kids the sofa gave in
The seat was in very bad shape as can be seen from the picture below.
We had the following choices.
Sell this sofa and get a new sofa from any show room
Get the sofa repaired
We thought about selling the sofa and getting a new one. But the old sofa would not have sold for more than 5K and the new one was not available less than 60K. So that would have been created a hole of about 55K in my pocket. I explored the other option of getting it repaired.
I checked the neighborhood hand-loom shop UP hand-loom and asked for a repair person for my sofa. They sent over a person and he checked the sofa and quoted me a price of 10K. Since in the past this particular shop had provided me the right service, I thought about going ahead with this option.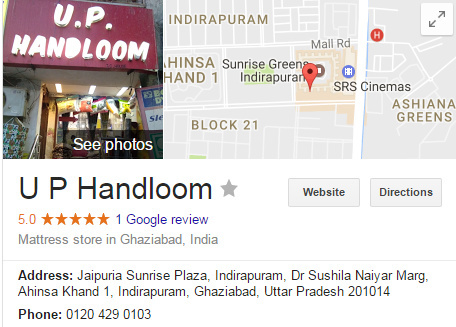 Reparing process
Actually I found the sofa repairing process quite exciting. I just sat there and watched the entire process when the repairing was going on. During the repairing process I came to know that how easy it is for the guys to repair a sofa. The same process is used when a new sofa is made. That process is so simple and raw materials are not that expensive. I don't know why these sofas are sold at such a high price in show rooms. Except the wooden frame all other costs should be under 20K even if you use best of the material. And depending upon the frame cost the entire sofa price will vary. But unless you are really going for a hand carved teak wood frame, I don't think the frame cost should ever exceed 10 K, at the maximum.
Guys trying to remove the sofa seat from the sofa
Sofa seat got removed
Removed the foam and clothing over the foam, wooden frame can be seen and so are the springs
Then they placed the new foam on the wooden frame and pasted that some glue to attach the foam with wooden frame. And stapled the cloth using staple gun.
That's it the sofa seat got repaired.
I think it took them about 3-4 hours to repair both the sofa seat. The cost of the raw material foam, glue etc was about 6K and for their services they charged for 4K.