Salads are generally boring, but this one is tasty as well as included in the diet plan.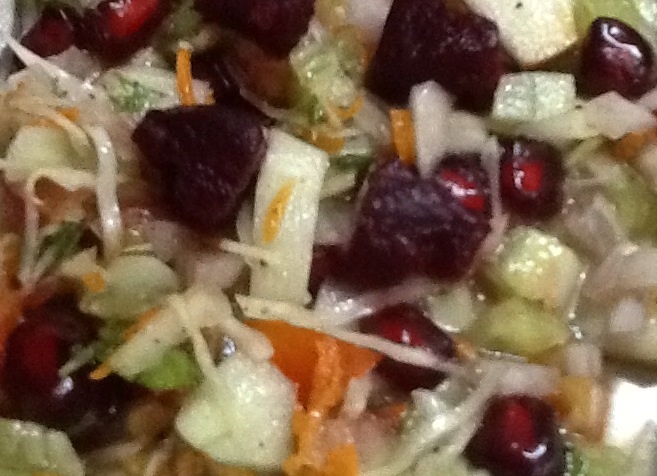 Ingredients for dressing
2 table spoon olive oil
1table spoon sugar
1 table spoon lemon juice
1 tea spoon black pepper
1 tea spoon Mustard paste (optional)
Salt to taste
Method for Dressing
Take a bowl and mix all the mentioned ingredients and stir for a minute OR till the sugar gets dissolve into the dressing. Keep it aside.
Ingredients for Salad
Chopped Cabbage
Grated Carrot
Chopped Capsicum
Chopped Coriander
Chopped tomato
Chopped onion
Chopped cucumber
Chopped apple
Few nuts - cashew nuts, walnuts(optional)
Few seeds of pomegranate (optional)
Few grapes(seasonal/optional)
Chopped beetroot
Method
Take all the mentioned vegetables and fruits in a bowl. Add dressing 10 minuted before serving. If the dressing is added and salad is kept for long, it will losses the taste and color.