Teak wood (Sagwan in hindi) is a premium wood that can be used in home furniture. This wood not only looks beautiful but also provides safety against the termites, insects and moisture. As the wood ages it's beauty only enhances.
I have an open kitchen and it was becoming quite difficult for me to keep my 1 and 1/2 year old daughter away from the kitchen. I decided then to install an half gate on the entrance of kitchen. The installed gate looks like this.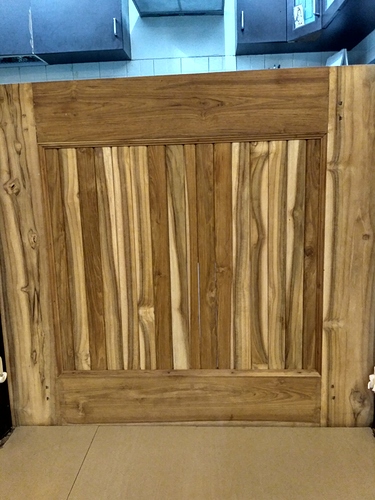 I wanted to have this gate made of teak wood. Since I stay in Indirapuram (Ghaziabad), I deicided to purchase the wood from nearby place. Following is a good neary by timber merchant from where you can buy any kind of wood. It is one of the most authentic shops form any kind of timber is ghaziabad.
Babu Ram Shri Chand Kabari
174, Hapur Rd, Ghaziabad, Ghaziabad - 201010
+(91)-120-2731089, +(91)-120-2735526
+(91)-9810532152

Types of teak wood
As per my knowledge there are three types of teak wood that is available in the market.
CP Teak Wood (Central Province teak wood) - Basically teak wood that gets procured from central states of india like M.P. etc
Nagpuri Teak Wood
Ghana Teak Wood
In these three CP teak wood is most expensive but most beautiful looking. If the CP teak wood will cost 10x then Nagpuri and Ghana teak wood will cost around 3x.
When I purchased the wood in July 2016, the price of CP teak wood was 3200 per cubic feet. So if you buy a wood of say 5 feet length, 5 inch width and 1.5 inch thickness, then the price would be
5*(5/12)*(1.5/12)*3200 = 840/-
We will have to convert 5 inches and 1.2 inches into feet that's why I am dividing those values by 12.