Indian railways is the cheapest option to send out the goods from one place to the other using their parcel mechanism.
It costs around 1 Rupee per Kg per 100 Km.
But to send items via railway parcel, one will have to do a good packing job. Because these items are roughly handled on the way. A parcel should look something like this.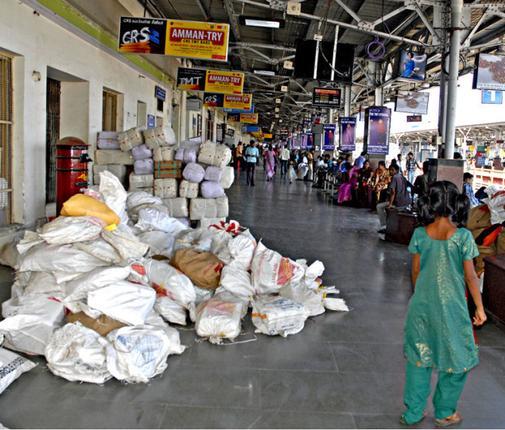 Preparation
A good idea will be to visit the station from where you want to book a parcel prior to do the actual parcel booking. This will help you to know where you want to park your vehicle so that the heavy parcels can be easily moved and will help you with other minute details. The more information you can gather the better it will be.
Anand Vihar to Farrukhabad parcel booking
I visited the Anand Vihar Terminal to inquire about the procedure. I got told that if I have a confirmed ticket then the parcel can be booked in the same train. The loading and un-loading stations should have more than 5 minutes of stoppage time. So that the parcel can be loaded and unloaded from the train. The parcel can only be booked under the name of a passenger. I should visit the station 4-5 hours prior to the actual departure time and can book the parcel. I was also told that I can stop my car at designated place and then I can purchase the services from some private operators. They will then unload the parcels from my car, get them weighed and then will load them in the train once the train arrive. These services will roughly cost the same amount as spent on the actual parcel booking.
Packing Material
I arranged the following things to do a decent job of packaging.
In Noida/Indirapuram area these things can be purchased from the Sharma Market, Harola, Sector 5 Noida. There are few shops who sell the above mentioned items. Or one can visit the nearest movers and packers shop. These stores will have these items for self purpose as they use the above mentioned items for packing thr stuff. And if you ask nicedly they can sell these items to you. But it is really hard to collect cartons and jute/poly sacks. Your best bet is any 'kabari wala' ( scrap dealer).