Smart class is quite a buzz word now a days and rightly so. A smart class means apart from the regular black/white/green board based teaching, there should be some interactivity as well in the course being taught.
For example if some one is teaching the functioning of

then it would be a good idea to demonstrate pictorially what happens exactly. So a video will surely help but it will be good to annotate the video and pause and resume the video.
One option is that the teacher can play the video on their laptop/desktop and can annotate and pause/resume video from there. The laptop/desktop screen can be projected on the wall or on the board so that students can see the content. This will work but then teacher will have to move away from the board and will have to work on the laptop/desktop. That will shift the focus of the class. Students will be looking from the board to where the teacher is moving because students follow the teachers movement. So we don't want to move the teachers from the board .
Somehow if the teacher can control their PC from the board itself wouldn't that be good. That's exactly the smart class or smart board provides.
Interactive board solution
The screen from the laptop/desktop is projected on to the board and then the board itself provides the interactivity so that teacher can click on the board itself and the teacher's hand actions gets converted into the mouse actions. How does that happen? The board will normally have the sensors that will track the hand movements and will send the signals to the PC as mouse actions. For this to happen we need three things in the class room.
A projector
A board with sensors (Smart board)
An PC to run the application
This projector could a long throw projector, short throw projector or ultra short throw projector.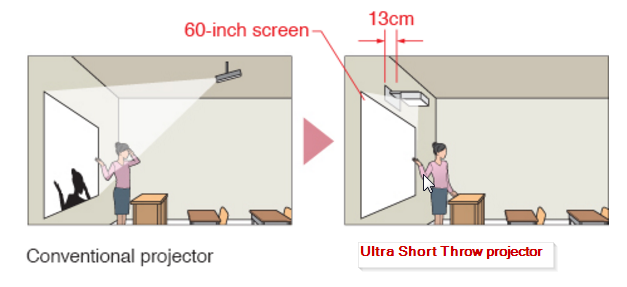 Interactive projector
The above solution works but what if we can fit the sensors in the projector itself. Wouldn't that will remove the need of a smart board. In this case the projector itself will track the hand movements and will convert those actions in to mouse movements. For this to happen the hand should really be close to the projector. This wouldn't be possible in long throw projectors; probable can work in short throw; but definitely will work with ultra short throw projectors. That's why most interactive projectors are ultra short throw projectors. Since the sensors are built into projector, we really don't need a board and these projectors can directly project on the wall.
Vendors
For interactive boards one can contact the following company
New Alfa Infotec Pvt Ltd.
205, Saraswati House, 27, Nehru Place,
New Delhi, 110019
Landline: 011 - 41030557
Mobile: +91 - 8130396275-276
Email: info@alfa-infotec.com, amarjit@alfa-infotec.com
For interactive projectors as per my research EPSON's ultra short throw interactive projectors are best. I have opted for EPSON 595 wi model