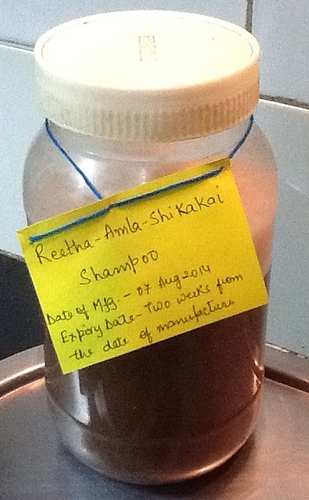 This homemade shampoo if used regularly will protect your hair from being damaged. It increases the volume of the hair and the shine in the hair is no less than the ready made shampoo.
Ingredients
Reetha 100 gms
Amla 100 gms
Sheekakai 100 gms
Tap water 2 liters
Method
1.Soak reetha, amla and sheekakai in 2 litres of waters for 12-14 hrs or overnight.
2. After 12-14 hrs all the ingredients will become soft. Mash the ingredients either with hands or with the help of masher for 2-3 minutes (do not drain the water)
3. Boil the mixture till the water is reduced to half.
4. Let the mixture gets cool down. Again mash the ingredients so as to get the maximum pul out of it.
5. Strain the mixture.
6. Check the leftover in the strainer. If the pulp is still there, then take 0.25 liters of water and mix the leftover pulp in it. Mash it and boil it again. Strain it back.
7. Shampoo is ready to use.
Notes
This shampoo can be stored for 2 weeks in the air tight container. Use it as the normal shampoo. To get good results use it 2 or 3 times a week.
The shampoo will not lather as the ready made shampoo, but after wash the hair will be as clean and shiny as if the latter is used.
If the oiling is done before wash, then use the shampoo twice or thrice.
Precautions: The eyes should remain close while washing so as to prevent the shampoo to get in contact with the eyes. If not so, then, although not harmful, there may be strong itching in the eyes.