This article is about the nursery admission process of my daughter for the session 2018-2019 in Noida and Indirapuram.
I have learned from many forums that nursery admission in NCR is a tough nut to crack and time consuming. A parent has to short-list various schools from number of schools according to the following criteria:
Reputation based on results
Location
Academics and extra-curricular activities (like sports)
Student-Teacher ratio
Fees
The schools in Noida and Indirapuram can be categorized as below:
Traditional schools (old) - These schools follow the academics. They have less extra-curricular activities. Have non-AC classrooms. Fees - Rs.5000/- per month. Example: Vishwa Bharti Pulic School, Bal Bharti School, St. Francis, Father Agnel, Somerville.
Traditional Schools with a BRAND name - They also focus on academics and some extra curricular activities: DPS noida, Amity Noida, Apeejay, Amity Vasundhara-6. Fees - Rs. 8000/- per month.
New schools - These follow academics with new teaching methods. Also focus on extra curricular activities. The Shriram Millenium, Lotus Valley, StepbyStep, Pathways School.Fees- Rs.12000/- per month.
Apart from the monthly fees there will be other expenses like annual charges and transportation charges.
For traditional schools(old) other charges will be approx 3000/- per month.
For traditional schools with brand name other charges will be approx 4000/- to 5000/- per month
For new schools the other charges will be approx 8000-9000/- per month
We short-listed the following schools in priority order:
Unfortunately the order that we have in our mind is most often not the order in which admissions are opened. We appeared for various interactions in the following order: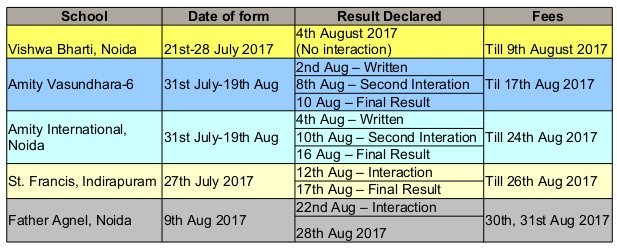 On 21st August 2017, we booked one seat in Amity Noida. Our result for Father Agnel was still pending. We dropped Vishwa Bharti, Amity-6 and St. Francis. So final call was between Father Agnel and Amity, Noida.
Interview questions faced during the process
Father Agnel School Noida Registration form
Amity, Noida and Vasundhara
General Interview Questions for nursery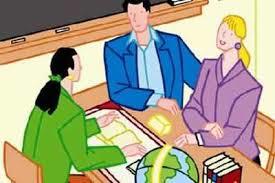 Suggestions to parents seeking admission in nursery
Try to fill and submit the form as early as possible. The school might select forms on "first come first in" basis.
Prepare the common questions like: Why this school, Describe your child and Introduce yourself.
3.Prepare, if possible, the all questions in General Interview Questions for Nursery
During the interview, speak precisely. Do no interfere if the spouse is talking. Let him/her finish first.
Prepare the child to answer questions on basic shapes, basic colors, an english and hindi rhymes, body parts, common fruits and vegetables. A good greeting from child like "hello" or "good morning" does wonders.
Join http://www.admissionsnursery.com/ for the admissions. It provides the details about the admission forms, documents. One can also discuss and compare about the various schools in Delhi and NCR.
All the best for the future and happy parenting!