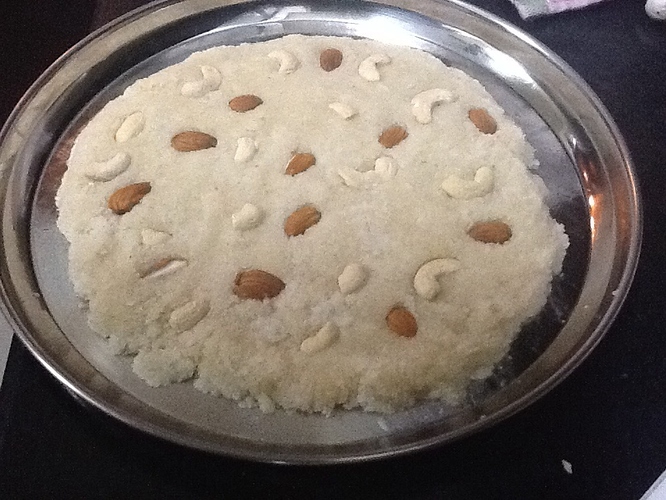 Today is Krishna Janamashtami, and I really want to spend whole of my day thinking about Lord Krishna and listening to His Bhajans. In between, I thought of contributing the recipe of one of the Prasad made during this day. The coconut Barfi is easy to make and is really tasty. This barfi can be make with or without Mawa(khoya). Check the recipe of barfi with Mawa:
ingredients
Finely Grated coconut 250 gms
Sugar 2 cups
Mawa 100 gms
Method
Take Mawa in a kadai and sorte or roast it for 3-4 minutes. This will improve the consistency of Mawa, so that it can be easily mixed up with the other ingredients. Take the Mawa out of kadai and keep it aside.
Take a flat plate and grease it will little bit of ghee. Keep it aside.
Take fresh kadai and add sugar into it. Add 1/2 cup water.
Make right consistency sugar syrup. Consistency can be checked with the help of drop of sugar syrup pressed in between thumb and finger. There should be two threads formation. This step will take 3-4 minutes.
Now, add grated coconut and Mawa and mix all the ingredients. Turn off the gas. Keep continuing mixing the ingredients.
Now pour the mixture into the greased plate and make the mixture get flatted with the help of spatula or ghee greased fingers.
Add dry fruits.
After 1hour or so, check barfi. If it is set, cut the barfi into desired shape and serve.
Notes
This coconut barfi needs to be finished in two or three days, because of Mawa content in it OR refrigerate it for 4-5 days.